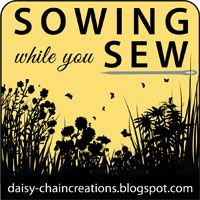 Can I just tell you that I think the most fun for me in doing this series (besides sewing with my daughter--which I've been bad not blogging about, but I'm having camera issues), is seeing how all of these amazing bloggers pass on their love of sewing to their children. This week we have yet another wonderful woman, Marnae, who is not only talented, but is juggling a newborn at the same time. So here she is...
Hi Daisy Chain readers...I'm Marnae from
The Powell Family blog
. I was excited when Sally asked me to participate in her series--it gave me an "excuse" (or the push I needed!) to sit down and sew some more with my son. His first project was when he was about 5. I found a vintage sewing panel of a dog and an angel at a yard sale--you know the ones that have the cutting lines, and you sew them up and stuff them?? I thought it was perfect first project (with help, of course) and he really enjoyed trying to do it himself, although I had to guide the fabric most of the time. In retrospect, probably not the best choice for a 5 year old :)
See the little yellow dog?? (among his other entries to the fair)
Then, last year, I helped him make a skirt for the "Skirting the Issue" drive at Simple Simon. He loved using the machine..even going so far as to call it fun..repeatedly. But, I admit, I am a perfectionist, and letting him sew independently (i.e guiding the fabric and working the presser foot)- is hard for me. But, I was determined to show more restraint..as in letting him (now age 8) make some mistakes..this time around.
I made some crocheted ear warmers for my girls a few weeks ago, and they were all so excited about them. So, of course, if one sibling has one, the others must have the same...or in this case a good equivalent substitution. Carter originally asked if he could have ear warmers too, but I steered him away from them and towards a fleece hat that we could make together. He was in!
I dug through my patterns and found 2 that could work. One was an adult/youth pattern and one was a child/toddler pattern. It was fun starting from the beginning and looking at the pattern together, reading the measurements, measuring his head, and then deciding what parts of each pattern would work best.
He was really involved in the decision process, although admittedly this was not his favorite part of the process ("Mom, when are we going to be done looking at this pattern and start sewing???") My sentiments exactly:) It was good for him though, to see how much prep actually goes into sewing: measuring, altering patterns, reading patterns, laying out fabric, pinning/positioning patterns,and cutting them out--all before you even turn on a sewing machine!
He was good to listen to me explain about the selvedge, lining up patterns properly with the grain etc...and even used selvedge in a sentence as we talked!! Anyway, once we finally got through the pattern, he cut out the pieces and we moved to the sewing machine.
I showed him what pieces needed to be sewn together (we talked about basting) and he got to pinning and sewing! I helped him a little, but he really did most of it on his own.
I love picking out stitches..really, I do...
Hat without band...so excited to try it on!
At first he was having trouble keeping the seam allowance even, but did much better after I put a piece of Washi Tape along the 1/2" marking. Quite a simple trick, but it did wonders for him--at least on the straight parts. The curves on the crown of the hat were still challenging for him. But, he learned another sewing lesson on those curves: how to pick out stitching. Which really is a huge part of sewing...well at least MY sewing:) When he finally started seeing everything
Blue solid side of finished hat
coming together, he got excited and wanted to hurry and see the finished product (like mother, like son I guess) It was a really great experience for both of us--it was fun to see him excited about something that I have come to love so much, and fun for me to spend some quality time with someone I love so much! He loves his hat too..and is happy to be wearing something that he sewed himself.
Red/blue contrast side of his reversible hat
The football pose
And by the way, his sister thinks she needs a hat too (of course)--"But in pink and purple, mom!)
Lobbying for a hat of her own...and wanting in on the photo shoot!